Sale!
Nettle Lemongrass Green Tea (25 Teabags)
You Save: INR 202.00 (45%)
Flushes Out Toxins From Body
Promises Excellent Metabolism
Carries Immunity Boosting Essence
Encourages Better Oral Health
NETTLE LEMONGRASS GREEN TEA: Start your day with this unique blend of green tea infused with lemongrass and nettle to activate your body's immune response & increase metabolism along with reduction in sodium level in your body for a healthy-living experience. 2 cups in a day is all you need to see the benefits.
GOODNESS OF MANY INGREDIENTS: Our experienced & qualified team uses the unique combination of Green Tea, Nettle & Lemongrass from around the valleys to prepare the revitalizing flavour to help you live an energetic & healthy life the natural way.
BREWING INSTRUCTIONS: Place pyramid shape tea bag into the cup. Use fresh water for brewing tea & add boiled water (90°C) into the cup. Allow tea leaves to brew for 3-4 minutes or according to taste. Reuse tea leaves one to two more times. Allow additional 30 seconds steeping time for every use.
RESEALABLE AIR-TIGHT POUCH: Our 50g bag of loose green tea will provide approximately 50 servings, not including the re-steeps. Besides, its convenient resealable air-tight pouch is lined with aluminium foil lining inside so you can ensure that your tea will remain fresh for months to come.
WHY TEA YARD GREEN TEA? We follow stringent parameters to serve you only the best i.e. Ingredients Sourced from Native Region, Original Species of the Tea, Grown Organically under Natural Environment, No Added Flavours, Additives or Preservatives, World-class Production Methods, & Speciality Packaging for Longevity.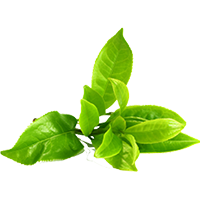 Green Tea
Green tea is rich in healthy bioactive compounds which may increase the process of weight loss. Green tea is anti-inflammatory that may help reducing skin irritation, skin redness & swelling. It is an impactful remedy for minor dermatological conditions. The green tea compounds are helpful in soothing the dull skin & pale hair fibres.
Lemon Grass
Lemon grass is best known for relieving anxiety and stress level. It stimulates health by controlling bad cholesterol that human body produces. The lemon grass compounds helps in preventing infections and facilitates a good oral health. It also works great for minimizing the bloating problem apart from boosting the level of red blood cells.
Nettle
The herb nettle is well-known for its medicinal properties. It is mostly consumed as tea to improve a variety of health issues such as heart disease, gut health, immunity development, kidney function enhancement, allergy relief, UTI treatment, and arthritis pain. It is a powerful blood purifier that removes toxins from the body, making it an ideal addition to your daily routine for staying healthy.