Sale!
Classic Chamomile Green Tea (25 Teabags)
You Save: INR 247.00 (45%)
Induces Peaceful, Calm Sleep
Relaxes Mind & Body
Helps Improving Digestive Health
Revitalizes Taste-buds, Refreshes Senses
CHAMOMILE GREEN TEA: Tea Yard brings classic chamomile green tea enriched with hibiscus and spearmint to give you the best relaxing, calming & invigorating effect with every sip you take! It is the best green tea to have at night so you can sooth your senses for a relaxed sleep ahead.
GOODNESS OF MANY INGREDIENTS: Our experienced & qualified team uses the potent combination of Green Tea, Chamomile, Spearmint & Hibiscus from around the valleys to prepare the revitalizing flavour in order to help you live an energetic life the natural way. Relish our green tea at anytime of the day.
BREWING INSTRUCTIONS: Place pyramid shape tea bag into the cup. Use fresh water for brewing tea & add boiled water (90°C) into the cup. Allow tea leaves to brew for 3-4 minutes or according to taste. Reuse tea leaves one to two more times. Allow additional 30 seconds steeping time for every use.
RESEALABLE AIR-TIGHT POUCH: Our 50g bag of loose green tea will provide approximately 50 servings, not including the re-steeps. Besides, its convenient resealable air-tight pouch is lined with aluminium foil lining inside so you can ensure that your tea will remain fresh for months to come.
WHY TEA YARD GREEN TEA? We follow stringent parameters to serve you only the best i.e. Ingredients Sourced from Native Region, Original Species of the Tea, Grown Organically under Natural Environment, No Added Flavours, Additives or Preservatives, World-class Production Methods, & Speciality Packaging for Longevity.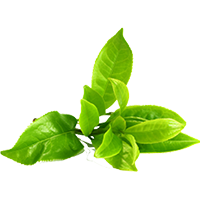 Green Tea
Green tea is rich in healthy bioactive compounds which may increase the process of weight loss. Green tea is anti-inflammatory that may help reducing skin irritation, skin redness & swelling. It is an impactful remedy for minor dermatological conditions. The green tea compounds are helpful in soothing the dull skin & pale hair fibres.
Chamomile
Chamomile is a popular alternative therapy for promoting sleep and treating insomnia. Chamomile is thought to be beneficial in reducing smooth muscle spasms caused by gastrointestinal inflammatory disorders such as inflammatory bowel disease. Chamomile applied topically may have the ability to accelerate wound healing. Chamomile is frequently used to treat minor skin irritations such as sunburn, rashes, sores, and eye inflammations.
Spearmint
Spearmint has long been used in holistic treatments such as Ayurveda medicine. Ayurveda strongly supports the use of spearmint tea to treat gastrointestinal problems, soothe the stomach and colic pain in infants, and treat irritable bowel syndrome, abdominal cramps, and flatulence. The numerous advantages of spearmint can also be reaped as a health dosage through spearmint tea.
Hibiscus
Potent antioxidants found in hibiscus include anthocyanins. Anthocyanins are responsible for the plant's vibrant colour. They may also help to prevent many chronic diseases and have antibacterial properties. Some believe that the properties of hibiscus can help treat high blood pressure, high blood sugar, and high blood pressure.