Slimming Green Tea (25 Teabags)
INR 499.00
Aids in Balancing Appetite
Suppresses the Fat Production
Boosts the Fat-burning Process
Keeps Body Active
WEIGHT LOSS SLIMMING GREEN TEA: Start your day with this herbal blend of green tea infused with Garcinia Cambogia, Lemongrass, Cinnamon, Ginger & Coleus that promotes natural fat burning process & controls appetite for slimming & weight loss results in conjunction with healthy diet and exercise program.
GOODNESS OF MANY INGREDIENTS: Our experienced & qualified team uses the combination of Green Tea, Garcinia Cambogia, Lemongrass, Cinnamon, Ginger & Coleus from around the valleys to prepare the revitalizing flavour in order to help you live an energetic life the natural way.
BREWING INSTRUCTIONS: Place pyramid shape tea bag into the cup. Use fresh water for brewing tea & add boiled water (90°C) into the cup. Allow tea leaves to brew for 3-4 minutes or according to taste. Reuse tea leaves one to two more times. Allow additional 30 seconds steeping time for every use.
RESEALABLE AIR-TIGHT POUCH: Our 50g bag of loose green tea will provide approximately 50 servings, not including the re-steeps. Besides, its convenient resealable air-tight pouch is lined with aluminium foil lining inside so you can ensure that your tea will remain fresh for months to come.
WHY TEA YARD GREEN TEA? We follow stringent parameters to serve you only the best i.e. Ingredients Sourced from Native Region, Original Species of the Tea, Grown Organically under Natural Environment, No Added Flavours, Additives or Preservatives, World-class Production Methods, & Speciality Packaging for Longevity.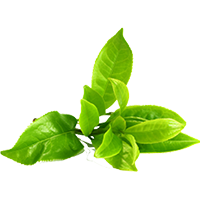 Green Tea
Green tea is rich in healthy bioactive compounds which may increase the process of weight loss. Green tea is anti-inflammatory that may help reducing skin irritation, skin redness & swelling. It is an impactful remedy for minor dermatological conditions. The green tea compounds are helpful in soothing the dull skin & pale hair fibres.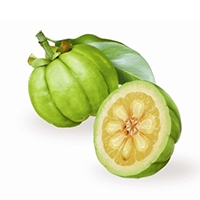 Garcinia Cambogia
The chemical hydroxycitric acid is found in garcinia. HCA may help to prevent fat storage, control appetite, and improve exercise endurance. Garcinia is taken orally for weight loss, exercise performance, joint pain, bloody diarrhoea, increasing bowel movements, and treating worms and parasites.
Lemon Grass
Lemon grass is best known for relieving anxiety and stress level. It stimulates health by controlling bad cholesterol that human body produces. The lemon grass compounds helps in preventing infections and facilitates a good oral health. It also works great for minimizing the bloating problem apart from boosting the level of red blood cells.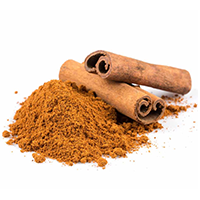 Cinnamon
Cinnamon is a spice derived from the inner bark of trees known scientifically as Cinnamomum. Cinnamon's distinct aroma and flavour are due to the oily part, which is high in the compound cinnamaldehyde. It contains antioxidants, which shield your body from the oxidative serious harm triggered by free radicals. Cinnamon contains numerous antioxidants, including polyphenols.
Ginger
Ginger is a flowering plant native to Southeast Asia. It is one of the world's nutritious and most delectable spices. Ginger has a long history of use in both complementary and progressive medicine. To name a few of its applications, it has been used to aid digestion, reduce nausea, and fight the flu and common cold.
Coleus
It is highly regarded in Ayurveda for its ability to balance all three doshas, and it has numerous health benefits ranging from the skin to the thyroid. Because of its antimicrobial and anti-inflammatory properties, it has a wide range of applications. It increases the levels of a self-regulating compound in cellular functions, which aids in the elaboration process.